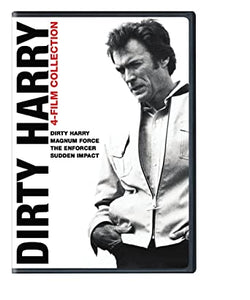 Title:  Dirty Harry
Year:  1971
Actors ‏ : ‎ Clint Eastwood, Sondra Locke, Andy Robinson, Hal Holbrook, Tyne Daly
Plot:  In 1971, San Francisco faces the terror of a maniac known as the "Scorpio Killer" (Andrew Robinson), who snipes at innocent victims and demands ransom through notes left at the scene of the crime. Inspector "Dirty" Harry Callahan (Clint Eastwood) is assigned to the case along with his newest partner Inspector Chico Gonzalez (Reni Santoni) to track down Scorpio and stop him. Using humiliation and cat-and-mouse type of games against Callahan, Scorpio is put to the test with the cop with a dirty attitude.
Title:  Magnum Force
Year:  1973
Plot:  San Francisco Police Inspector "Dirty" Harry Callahan (Clint Eastwood) and his new partner, Earlington "Early" Smith (Felton Perry) have been temporarily reassigned from Homicide to Stakeout Duty. Meanwhile, those of the city's criminals who manage to avoid punishment by the courts are nevertheless being killed by unknown assassins. Callahan begins to investigate the murders despite orders from his superior officer, Lieutenant Neil Briggs (Hal Holbrook). A man has to know his limitations.
Title:  The Enforcer
Year:  1976
Plot:  A threatening terrorist group called "The People's Revolutionary Strike Force" demand a ransom to be paid, otherwise they plan to blow the city apart. While Inspector "Dirty" Harry Callahan (Clint Eastwood) is in limbo following his unorthodox method during a robbery, he's sent to dispatch the terrorist group, by playing their game. This time, he has a new partner, Inspector Kate Moore (Tyne Daly), which might prove the task to be somewhat more difficult than ever, unless the two can work together.