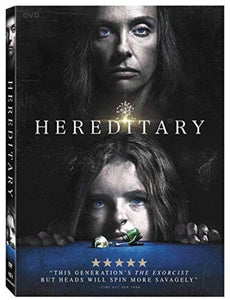 Title:
  Hereditary
Year:
  2018
Directed by:
  Ari Aster
Starring:
  Alex Wolff, Gabriel Byrne, Toni Collette, Milly Shapiro, Christy Summerhays, Morgan Lund, Mallory Bechtel, Jake Brown, Harrison Nell, BriAnn Rachele
IMDb Rating:  7.3/10
Original Aspect Ratio:  2.00 : 1
MPAA Rating: R

Plot:  When her mentally ill mother passes away, Annie (Toni Collette), her husband (Gabriel Byrne), son (Alex Wolff), and daughter (Milly Shapiro) all mourn her loss. The family turn to different means to handle their grief, including Annie and her daughter both flirting with the supernatural. They each begin to have disturbing, otherworldly experiences linked to the sinister secrets and emotional trauma that have been passed through the generations of their family.