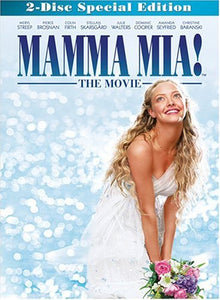 The delirious sight of Meryl Streep leading a river of multigenerational women singing "Dancing Queen" is one of the high points of 
Mamma Mia!
, the musical built around the songs of the hugely popular pop group ABBA. The plot sets in motion when Sophie (Amanda Seyfried, 
Mean Girls
), daughter of Donna (Streep), sends a letter to three men, inviting them to her wedding--because after reading her mother's diary, she suspects that one of them is her father. When all three arrive at the Greek island where Donna runs a hotel, Donna flips out and finds that passions she thought she'd laid aside are coming back to life. But let's face it, the plot is not the point--it's a ridiculous contrivance that provides an excuse for the characters to sing the massive hits of ABBA. Regrettably, first-time film director Phyllida Lloyd (who directed the original stage production) has drawn over-the-top performances from everyone involved, even Streep; every production number hammers its exuberance into your eyeballs. Which is too bad, because 
Mamma Mia!
 is a rarity: A middle-aged love story. The kids start things off, but the story is really about Streep and the three guys (former James Bond Pierce Brosnan, former Mr. Darcy Colin Firth, and Swedish star Stellan Skarsgard), as well as Donna's best friends (Christine Baranski, best known from the TV show 
Cybill
, and Julie Walters, 
Calendar Girls
). It's a romantic comedy aimed at the people who were around when all these songs were new, and that's an age group Hollywood largely ignores. For that alone, 
Mamma Mia!
 deserves to find an audience. --
Bret Fetzer